2019 Year in Review
By Renée Martin - General Manager, HDD Broker LLC - December 27, 2019
A strong domestic economy boosted the HDD industry again this year. Contractors continue to be optimistic about the future. An informal survey on People of HDD's facebook page resulted in comments like:
"All 5 crews are as busy as we can be"
"It'll never be slow"
"Cable TV and high-speed internet is recession-proof..."
Though a few contractors noted that factors like the upcoming election, or a decline in the housing market may have an impact:
"Election years make people edgy and tighter with their money. Still the best economy as far as job growth we've seen in quite some time"
"I expect that traditional construction (e.g. houses) will experience a slowdown, but telecom should be fast paced for the foreseeable future. This country is too reliant on telecom, with a constant demand for better and faster"
"Our customers are not facing financial difficulties. It's more that they seem to be waiting to see what happens with the economic outlook for making decisions." ~ Caterpillar Chief Financial Officer Andrew Bonfield
Within our industry, telecom, gas, power and water are predicted to grow or stay steady, bolstered by positive economic factors such as low borrowing costs, strong labor markets, and overall consumer confidence. However, the economic global outlook does contain risks. Growth will be limited by US-China trade tensions, global uncertainty, the US election, and Brexit.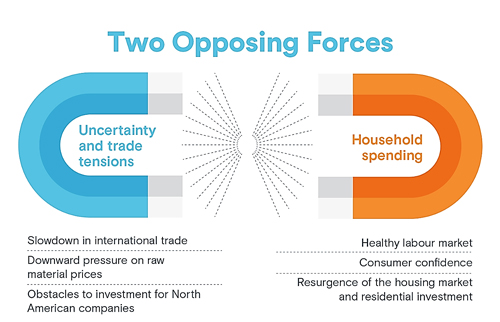 While segments of our industry may be insulated from global uncertainty, we will still face our share of headwinds. A gas explosion in Massachusetts this year killed one person and injured several others 1. Another in Lincoln County, Kentucky resulted in a death and injuries and destroyed homes 2. Sun Prairie, Wisconsin and Durham, NC, San Francisco, CA also had deadly gas explosions. The negative publicity and lawsuits around instances like explosions, pipeline spills, drilling fluid frac-outs, and electrical fires draws heightened scrutiny and may result in regulations that could be detrimental to the industry.
Another pain point again this year is labor recruitment and retention. An ongoing concern in HDD and construction in general, efforts are being made by industry leaders and manufacturers like Vermeer and Ditch to train a new generation of operators. Other frustrations cited by contractors this year were inaccurate and poorly marked utility locates, companies that underbid, and slow payments.
But despite these concerns, the general consensus is a strong market with plenty of work into 2020 and even beyond.
Here at HDD Broker, our domestic sales were very strong, but we experienced a slowdown in some of our global sales. India, historically our biggest export market, was plagued with a banking crisis, massive layoffs, and an economic slump that is predicted to turn around this year. Similarly, we saw fewer sales to SE Asia, though we did have an uptick in sales to the Middle East, Africa, and South America.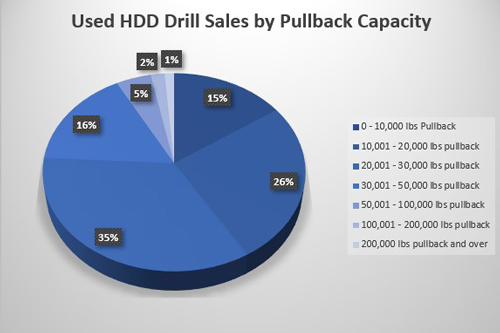 Drills in the 20,000 - 30,000 lbs pullback range were the most prevalent size, accounting for 35% of our sales. Best sellers this year were the perpetual favorite, D24x40 Series II. With vast inventory and price range availability, it remains a popular choice for those looking for a workhorse. Prices ranged from $50,000 for those with very high hours, to $150,000+ for late-model, low hour drills.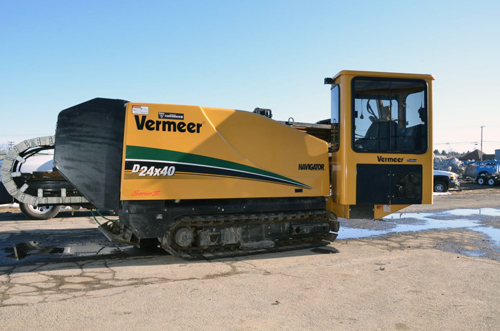 Followed closely behind is the Vermeer D20x22 Series II. Reliable, productive, and with lots of inventory on the used market, the D20x22 Series II is an excellent value for its horsepower, averaging around $70,000. But don't confuse it with the D20x22 S3! With slightly less pullback and smaller diameter pipe options, the D20x22 S3 is the replacement for the D16x20 Series II (which ended production in 2014). Despite the name, the D20x22 S3 is NOT the replacement for the D20x22 Series II.
Rounding out the best sellers is the Ditch Witch JT2020 Mach 1. On average it is priced less than its competitor, the D20x22 Series II, and is much less than the newest model in the line, the JT20, which also sold well this year.
Why is the JT2020 Mach 1 still so popular? It was first manufactured in 2004, and historically enjoyed a fairly open playing field in the 20,000lb class due to issues that Vermeer had with the D20x22's precursors. The JT2020, however, launched with no issues and turned out to be a very solid and reliable drill except for frame issues that plagued it in 2004 and 2005 model years. As such, it enjoyed nearly four years of dominance over its size category until the D20x22 Series II launched in 2008. It still remains in our Top 5 year after year, though the JT20 has gained huge marketshare.
Looking forward to 2020, we anticipate another strong year, though we'll keep a close eye on the global economy and the major market events in our industry.
From all of us at HDD Broker, we wish all of you a prosperous and happy 2020!
References:
1 https://www.nytimes.com/2019/05/07/us/massachusetts-gas-explosion-settlement.html
2 https://www.kentucky.com/news/state/kentucky/article233381897.html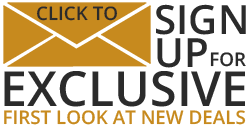 This commentary is presented for informational purposes only. It is not intended to be a comprehensive or detailed statement on any subject and no representations or warranties, express or implied, are made as to its accuracy, timeliness or completeness. Nothing in this commentary is intended to provide financial, legal, accounting or tax advice nor should it be relied upon. Neither HDD Broker LLC nor the author is liable whatsoever for any loss or damage caused by, or resulting from, any use of or any inaccuracies, errors or omissions in the information provided.