Evaluating the Used Rig Market
By Bob Martin - General Manager - February 2009 - Featured in Trenchless World Magazine
It's a different world today than it was yesterday. It will be a different world again tomorrow.
Simple statements, but in today's changing economic climate, they are more true now than ever before.
I was recently asked to speak at the Underground Construction Technology Exhibition in San Antonio, Texas, and it afforded me the opportunity stand back and reflect on the HDD industry over the last ten years or so and see how it has been affected, and more specifically how the market for used HDD equipment has changed and where it is now.
Market Pricing
One of the most important aspects of the evaluation of the used equipment marketplace is historical trending in regards to pricing. Over the last 8 years, my company has carefully tracked sales prices for all major makes and models of HDD drills. From that data, we have been able to graph historical market trends for HDD drills, and we have chosen to break that down into mini-HDD machines (less than 20,000lbs of pullback), midi-HDD machines (pullback between 20,000lbs and 80,000lbs), and maxi-HDD machines (pullback in excess of 80,000lbs).
Mini-HDD rigs seem to have seen the largest price fluctuations over time. The fiber crash in 2001 saw many of these small machines without any demand, and prices were affected accordingly. The following graph shows the change in average asking prices from 2000 through 2009. Package pricing started out near $40,000US in 2000 and then bottomed out at approximately $20,000US after the fiber crash of 2001. Pricing slowly rose over the following seven years, but we are now seeing a drop in pricing as a result of the current economic depression.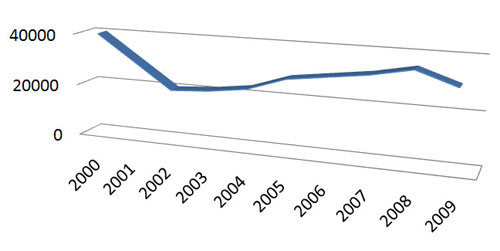 Analyzing the same chart for the midi-HDD machines, we can see that the same basic shape is mimicked. The midi-HDD machines still saw a large portion of their workload in the fiber market, and demand after the crash in 2001 decreased at the same basic rate.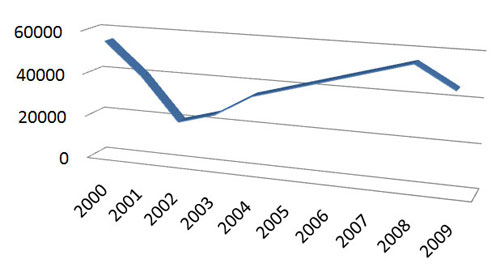 Of all of the categories, maxi-HDD machines were historically the least affected by the rises and falls of the fiber and utility markets over time. A steady demand for oil and gas had kept pricing for large HDD machines very consistent over the last decade or so. Plummeting oil prices for the last four months have had a marginal affect on the pricing for 2009, however ongoing large pipeline projects, particularly through Europe, are maintaining demand for these large machines.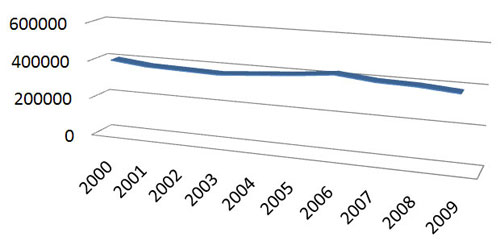 The crash of 2001 in North America served as a major wakeup call to the industry, and both suppliers and contractors learned valuable lessons about diversification and equipment finance that helped to stabilize the industry as a whole and create a healthier environment for drillers and suppliers alike.
The worldwide economic crisis that hit in late 2008 has not left the HDD industry alone. Rig prices have seen a reduction of approximately 12%, with an increase in the number of units for sale at around the 18% mark. Based on the numbers that I am seeing, I think that the same tendency will be in play for the short term, with falling prices and increased supply. It is definitely a buyer's market in the HDD industry along with all of the others.
Market Demand
Our website provided information concerning what contractors are looking for, and our sales history shows what they are actually buying. From our data, it was determined that the following makes and models of directional drills were in highest demand as of January, 2009:
Vermeer D24x40A
Vermeer D16x20A
Vermeer D7x11A
Ditch Witch JT2720
Vermeer D33x44
Ditch Witch JT4020
Vermeer D100x120
Ditch Witch JT1720
Ditch Witch JT4020AT Mach1
Vermeer D80x100
Not surprisingly, the Vermeer D24x40A topped the list. Historically speaking, the D24x40A has always been the workhorse of the HDD industry, with more of them built than any other model of drill by a fairly large margin. The smaller utility machines rounded up the top 5. From there, the larger mid-sized drills took over the demand.
For comparison, the following machines are ranked according to what was actually being sold to our customers. The order is slightly different, but the general idea is much the same:
Vermeer D24x40A
Ditch Witch JT2720
Vermeer D16x20A
Ditch Witch JT4020
Ditch Witch JT2720AT
Vermeer D33x44
Ditch Witch JT2020Mach1
Vermeer D80x100
Ditch Witch JT520
Vermeer D50x100A
Summary
Industry forecasts and media gloom have painted a fairly dire picture for contractors. The harsh reality is that there are hard times ahead. Obviously one of the biggest challenges that a contractor can face is keeping busy. Even with low market prices, the opportunity exists to "get by" through careful bidding. Even if no profit is realized, turning cash over can keep the business afloat until things stabilize.
Additionally, in a down economy, many of the sources for the equipment, tooling and supplies that a contractor needs may scale back on inventory, increasing delays for parts and consumables. There is the threat that the suppliers may also get weeded out through attrition as well, eliminating competition and driving prices up.
This market, however, holds a very special opportunity for saavy contractors. Times will be hard, that is a given, however for those able to weather the storm, enormous opportunity exists to enlarge, freshen or replace an existing fleet of drills.
Prices are dropping. Companies are going out of business. Banks are taking back equipment and they are liquidating it for cheap. Opportunity, as I mentioned before, is there for the drillers who can keep putting rod in the ground.
This has all happened before, and the lessons that were learned in the fiber crash of 2000 have shown that companies can thrive in the face of adversity. This market condition will weed out those who do not belong in this industry, those who underbid for the sake of keeping busy and those that practice unsustainable drilling procedures. Like culling a herd, this economy is ultimately strengthening the entire industry.
This commentary is presented for informational purposes only. It is not intended to be a comprehensive or detailed statement on any subject and no representations or warranties, express or implied, are made as to its accuracy, timeliness or completeness. Nothing in this commentary is intended to provide financial, legal, accounting or tax advice nor should it be relied upon. Neither HDD Broker, Inc nor the author is liable whatsoever for any loss or damage caused by, or resulting from, any use of or any inaccuracies, errors or omissions in the information provided.