The Pre-Owned Marketplace of 2013
By Bob Martin - of HDD Broker, Inc. - December 20, 2013
As another year draws to a close, now is a great time to look back at 2013 and what happened in the used equipment industry.
All indications seem to show that the economy as a whole is well on its way to recovery, and sales of new and used equipment within the HDD industry certainly reflect that. While total sales of new HDD units haven't been made public yet, sales of used equipment was very strong overall.
Let's take a look at some of the data points that HDD Broker has collected over the last 12 months and try to put some clarity to them. Please bear in mind that the used sales data you will see is by no means completely comprehensive. The sampling, however, is sufficiently large enough for me to be confident that the trends we point out should be fairly accurate for the industry as a whole.
Used Equipment Inventory:
Let's start by taking a look at active listings volume on HDDBroker.com for the time period of October 2012 through October 2013: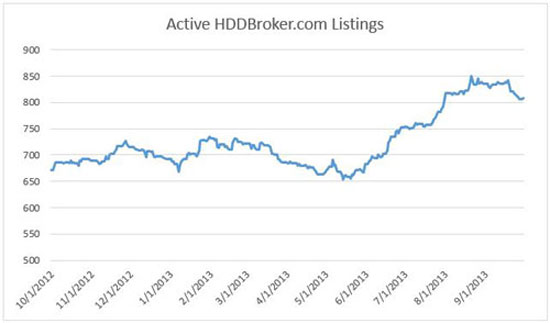 As you can see, listings volume remained fairly steady throughout the first part of the year, hovering at approximately 700 active used equipment listings up to the summer months. Listings volume climbed steadily over the following three months, peaking at nearly 850 in September.
While there is no "silver bullet" to explain the significant increase, factors contributing to it include job scopes throughout the US, the increasing penetration of Tier IV drills in the marketplace, and a major shift in new equipment sales prices.
Used Equipment Pricing:
In line with the basic laws of supply and demand, average equipment values fluctuated alongside the inventory volumes, particularly for newer units with low hours. To delve into this further, we can take a look at the market for new equipment to see what is driving the used marketplace.
Ditch Witch recently rolled out an entire fleet of new drill models with a new design philosophy (namely their JT20, JT25, JT60, etc). There was a significant amount of turnover in new equipment and a resultant shift within the used market as well.
A lot of the movement in equipment was due to aggressive pricing on new drills by all manufacturers as they fought over market share. With the drop in new equipment pricing, used equipment values dropped accordingly, again specifically for newer, lower houred units that could potentially compete in the new equipment sales arenas.
On the other end of the spectrum, however, pricing for older heritage equipment actually remained fairly steady, increasing slightly in some cases as demand from overseas reduced inventory domestically.
What is Selling?
Let's take a look at which models of drill are the most popular with pre-owned equipment buyers: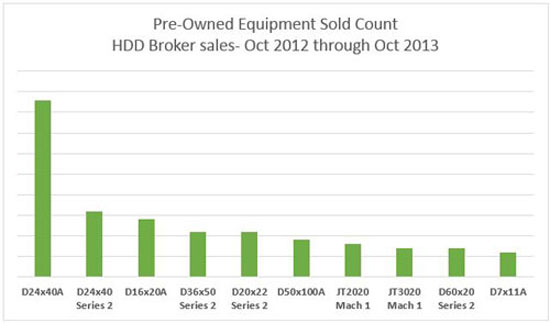 As you can see, the venerable Vermeer D24x40A drill showed a very significant sales volume, falling in line with previous year's results as well. This model is extremely popular in developing countries, and exports of these drills accounted for the vast majority of the sales. India, in particular, has a huge market for these units due to the population of these units there, the cheap labor pool, and the experience that drillers have with that specific model.
As a matter of fact, 8 of the top 10 best-selling used drills were Vermeer models. Ditch Witch made a showing with their very popular JT2020 and JT3020 Mach 1 models. The JT2020 Mach1 drill platform is historically the number one selling used drill in the Ditch Witch lineup. This may be due to the fact that its major competitor in that size class from 2004 through 2007 floundered somewhat. That situation seems to have changed with the introduction of the Vermeer D20x22 Series 2 drill in 2008. Now that that model has entered the pre-owned market in greater volumes, we are seeing a smaller ratio of JT2020 Mach 1 sales as a result.
Used Equipment Destinations
Now that we've taken a look at what is selling, let's look at where it's going: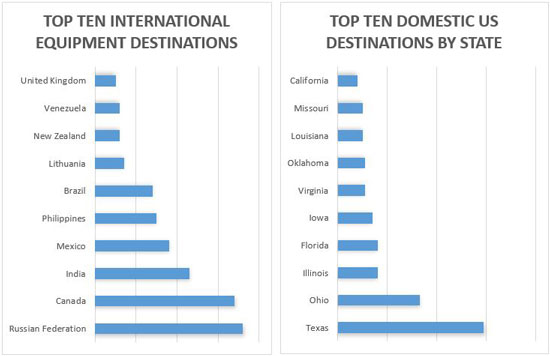 Russia continues to be an area of high demand for pre-owned HDD equipment. Canada's proximity to the US and the large volume of used inventory ensured that it placed highly as well. What is interesting to see is that several countries in South America are now hitting the top ten as utility remediation and new installations begin to ramp up there in earnest.
Of the sales done in 2013, and of the top 20 customers, there was a fairly equal split of buyers between equipment re-sellers and contractors. 40% of sales were to equipment re-sellers with the remaining 60% done directly with the end-users.
In the past, international transactions were typically conducted through a third-party broker, a company familiar with the equipment, the customer, logistics, customs and importation, and other facets of international commerce.
With logistics and customs procedures becoming more and more transparent as well as cost-effective, we are seeing an ever-increasing amount of international sales conducted directly to the end-user. Where before the importation process was a grey area that was full of uncertainty over cost and time, those concerns are becoming less and less of an issue, fuelling confidence in contractors to make a purchase from an overseas agent directly.
Conclusion
2013 was a yo-yo year for used equipment sales, with strong winter, spring and fall months. Summer was much slower, but still aggressive compared to previous years.
With the worst of the recession behind much of the world and many major remediation and installation projects in the works in many countries, the future looks bright for the industry and, accordingly, for the used equipment marketplace.
This commentary is presented for informational purposes only. It is not intended to be a comprehensive or detailed statement on any subject and no representations or warranties, express or implied, are made as to its accuracy, timeliness or completeness. Nothing in this commentary is intended to provide financial, legal, accounting or tax advice nor should it be relied upon. Neither HDD Broker, Inc nor the author is liable whatsoever for any loss or damage caused by, or resulting from, any use of or any inaccuracies, errors or omissions in the information provided.