The State of the Second Hand HDD Rig Market (Part 2)
By Bob Martin - General Manager - June 27, 2012
AS PUBLISHED IN TRENCHLESS WORLD
JUNE 2012
In the last issue of Trenchless World you read about the steady decline of used equipment inventory that the marketplace has seen since the peak back in October of 2010. The reasoning behind the steady decline of used inventory was outlined in great detail in the previous article.
Now, a few months later, we can look further into the market tendencies and try and guess what the future may bring.
As you can see from the following graph, used HDD listings reached the bottom of the curve on or about February of this year. From that point you can see a gradual increase in used inventory and a defined upward slope. From what we can tell, this curve should continue its ascent for the remainder of the year.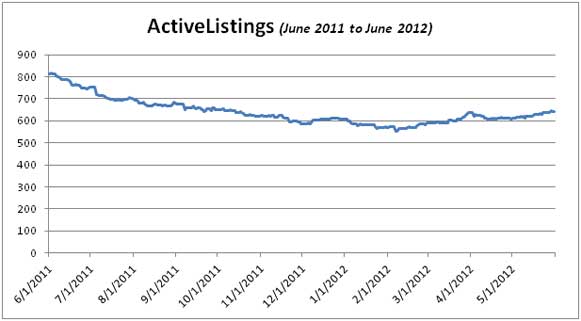 Other Market Considerations:
During the worst times of the global recession there was a continued need for HDD work, albeit a reduced one, however the lower contract volumes combined with plummeting work rates meant that many contractors turned to the used marketplace to satisfy immediate equipment needs. This helps to explain the downward slope of used inventory after fall of 2010 as used equipment was put to work on jobsites and contractors held onto existing equipment in order keep their fleets intact.
Recently, however, the HDD market as a whole has become much busier, a result of several drivers from varying areas:
U.S. Rural Fiber projects that have been driven by stimulus funding.
North American Pipeline infrastructure that is being driven by gas and oil shale projects.
U.S. Distribution gas line replacement projects.
General global infrastructure development and improvements.
Healthier contract volumes result in more work for HDD contractors and an increased need for more equipment to satisfy them. When combined with a general increase in contractor confidence, you begin to see a shift of equipment sourcing demand from the used market to the new one. Combine this with the fact that the industry saw many of the HDD contractors extending the ownership of their used equipment beyond what they would usually allow in an effort to reduce costs, and you see another contributor to the formation of a pent up demand for new equipment.
The bottom of the curve of the above graph illustrates this gradual shift quite clearly. The time afterward sees a shift from private sellers liquidating equipment in order to remain solvent to private sellers upgrading to new equipment or else dealers having taken in equipment on trade for new drills. In both situations, it is the demand for new equipment that begins to drive the used equipment volume and pricing.
There are a few generalizations that can be formed as a result of this. Firstly, the used equipment getting added to the marketplace tends to be older and with higher hours. This is much different than many of the used listings that entered the market during the worst of the recession, which tended to be later model, low-houred drills that were being sold in order to reduce equipment payments and contractor debt load.
Secondly, used equipment pricing as a whole has increased slightly. It is only natural that in conjunction with lower supply comes higher demand and prices, particularly for the later model drills. Most of these newer models have exhibited a 10% to 15% rise in value already.
A New Equipment Curve Ball:
One market driver that we are watching very closely and with much interest is the reaction to Vermeer Manufacturing's release of their new rock drilling systems later this year.
Development of these units has been rumored for years, but the equipment seems to have finally materialized, publicly revealed at the ICUEE Exhibition in Kentucky, USA last October. Up to this point, Ditch Witch has enjoyed a virtual monopoly on self-contained rock drills with their very successful "All-Terrain" product line.
If Vermeer's release goes as planned, it could represent a very fundamental shift in the used equipment marketplace as contractors examine a new option for rock drilling equipment. We forsee an influx of used Ditch Witch All-Terrain machines in the latter half of 2012 as contractors sell their existing drills in preparation for replacing them with Vermeer offerings and dealers take used AT units in on trade for new Vermeer units. Used All-Terrain drill pricing will be affected by this increased supply, but to just what degree is yet to be seen.
What To Look For In the Future:
The used marketplace seems to have stabilized after the global recession. Used equipment supply is gradually increasing as we cross through the void in production that was caused from 2002 through 2004 (see previous article). An increasing supply of HDD work, stabilizing pricing and a general increase in contractor confidence all play a part in what the future will bring.
Some generalizations that we can offer include:
Used equipment supply will slowly increase through the remainder of 2012.
Late model, low-houred drills will become increasingly hard to find.
Older drill model values should remain steady or even decrease slightly.
Newer drill model values should increase.
Sellers interested in liquidating newer (2008+) equipment should be happy to see the prices and demand for their equipment quite strong, depending on the specific model, while those with older equipment should be very realistic in their asking prices due to the increasing supply of competitive listings.
For buyers, now is definitely the time to move on newer drills. Pricing and supply are only going to begin working against them in the months to come. For those looking to supplement their fleet with an older machine, they should see an increased selection as these types of drills are traded against newer units. Pricing should remain fairly steady, or perhaps even drop as competition increases for those sellers.
In summary, we certainly hope that the worst of the period of volatility that the recession brought has been worked through. A recovering global economy and emergence from the void of in-demand used equipment should see a gradual strengthening of the used equipment marketplace and a resultant strengthening of the HDD equipment market as a whole.
The use of trademarked names herein does not suggest sponsorship or association of the author with the trademark owner's product or service. All trademarked names are the exclusive property of their respective owners.
This commentary is presented for informational purposes only. It is not intended to be a comprehensive or detailed statement on any subject and no representations or warranties, express or implied, are made as to its accuracy, timeliness or completeness. Nothing in this commentary is intended to provide financial, legal, accounting or tax advice nor should it be relied upon. Neither HDD Broker, Inc nor the author is liable whatsoever for any loss or damage caused by, or resulting from, any use of or any inaccuracies, errors or omissions in the information provided.