Used Equipment and the Small Rig Market
By Bob Martin - General Manager - March 29, 2012
The Small HDD Machine:
The HDD marketplace is full of a diverse collection of horizontal drilling machines. These drills range in size from small pit-launched units that can be fit into the bed of a pickup truck to monolith maxi-rigs that need three semi-trailer truckloads just for the main drill components.
While the maxi rigs are certainly often considered the most exciting of these machines, it must be acknowledged that the small rigs are really the workhorses of the HDD industry, composing (by far) the largest percentage of the HDD contracts being performed. The reason is certainly not hard to understand, as these small machines undertake installations from a huge number of industries including water, electrical, fiber-optic, gas, sewer and much more.
Obviously with this being the case, the vast majority of the new HDD drills that are sold fit into the pullback category of 30,000lbs (133KN) and under. Not surprisingly, the used equipment marketplace follows the same ratios very closely. I would like to share some statistics garnered from my company's database for the last calendar year of 2011: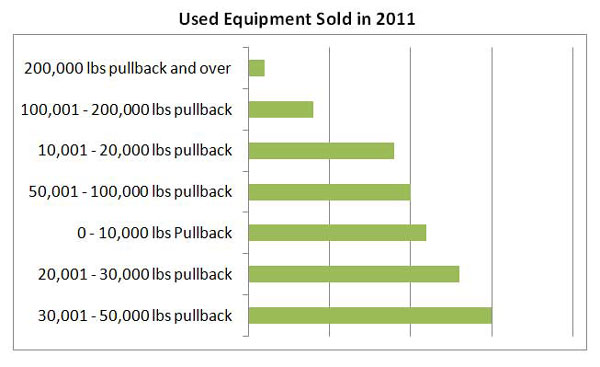 While this information obviously does not encompass the entire used equipment industry, the ratios should hold fairly true for the overall marketplace. Taking this one step further, we can see that machines of under 30,000lbs of pullback make up over 60% of the used equipment sales, which is a very considerable portion of the sales overall.
Where is the Demand?
Looking over sales statistics, the overall ratio of 60% actually seems to hold true for most of the countries that we currently export to. One notable exception, however, is Southeast Asia. In this area, a huge increase in investment in fiber-optic communications resources has created massive demand for utility installation equipment such as HDD drills in this size range.
According to the FTTH Council, South Korea ranks number one for the percentage of residences and buildings connected by fiber optics. Second and third on this list are Japan and China, with these three nations registering a huge overall total of all global optical fiber used.
Other nations are also implementing these latest technologies at a breakneck pace, with Telekom Malaysia deploying a lot of Fiber-to-the-Home (FTTH) and SingTel looking to increase their fiber resources in Singapore. Thailand, Vietnam, Taiwan and Hong Kong will soon be catching up as well, while PT Telkom in Indonesia is installing fiber cables in all new housing complexes and apartments. The Philippines also figures in the FTTH scene, with various PLDT and Smart deployments happening there.
The Used Equipment Marketplace
I can say with some degree of certainty that used equipment prices are going to undergo a period of volatility that will continue for the next twelve months. With the global recession still very much in the minds of nations, and governments still trying to finalize and implement their recovery strategies, just how much work is available is still a big unknown for many. Promised dollars for infrastructure spending have not materialized, at least not to their promised degrees, and contractors holding their breath waiting for work are turning slightly blue in the face.
However, equipment falling into the small rig category will see the biggest demand once the work does start flowing. Much of the infrastructure spending does revolve around projects involving fiber optic installation, sewer upgrades and remediation of existing utilities. With that being the case, the 30,000lb and smaller machines will be the units doing the vast majority of this work.
Another interested factor and one that will greatly affect the resale value of equipment, is the recent expansion of one of the world's largest HDD manufacturers, Vermeer Manufacturing based out of Pella, Iowa, into the world of self-contained rock drilling. Their newly announced D36x50 rock drilling drills are venturing into an arena traditionally dominated by their competitor, Ditch Witch, which manufactures out of their facility in Perry, Oklahoma. As such there is a good chance that the Ditch Witch AT (or "All-Terrain") rock drills will have their values affected due to the volume of potential trade-in units hitting the market in favor of the new offering. With increased supply typically comes reduced cost, and as such it may be that the Ditch Witch JT2720AT and JT3020AT values will move lower very quickly once the Vermeer offering takes to the marketplace.
In general, supply of used HDD drills is low compared to previous years. Good, low-houred drills are in high demand and while the pricing has not yet been affected to a great degree, they will follow the typical supply and demand rules, and an increase in used equipment values are very likely over the next twelve months.
Conclusion
The used equipment marketplace is alive and healthy. While the global economy is still recovering, the future is looking bright for HDD utility installations and the equipment that installs it.
This commentary is presented for informational purposes only. It is not intended to be a comprehensive or detailed statement on any subject and no representations or warranties, express or implied, are made as to its accuracy, timeliness or completeness. Nothing in this commentary is intended to provide financial, legal, accounting or tax advice nor should it be relied upon. Neither HDD Broker, Inc nor the author is liable whatsoever for any loss or damage caused by, or resulting from, any use of or any inaccuracies, errors or omissions in the information provided.