Mobile Support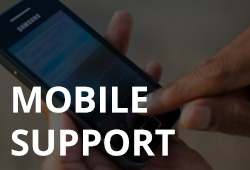 Help While You're On The Go
Need help while you are on the go? A quick trip to your app store and our staff will be able to provide you with support on your iPad, iPhone, iPod touch and Android devices. HDD Broker uses TeamViewer to provide remote support on your mobile devices. TeamViewer allows us to remotely and securely connect your mobile device so that we can view what you are seeing. Sometimes this is the easiest way to determine what the issue is without having to describe it over the phone or via email.
TeamViewer uses encrypted connections to protect your privacy. You can end the connection at any time.
If you are looking for support and haven't talked to our staff yet, contact us to get started. If you are ready to start, click on the Apple App Store or Google Play Store buttons below to install the software to get you going.
Download